CHOCODOCE has been earning Brazilians preference for more than fifteen years with delicious desserts, like Petit Gateau (lava cake), Cheese Cake and Dutch Pie.
Our Petit Gateau was considered one of the best in Brazilian market, and our other desserts, like cheesecakes, cakes and pies are wonderful as well. We combine modernity, knowledge and traditional pastry techniques to achieve elegance which is as pleasing to the palate as it is to the eye.
The Company specializes in frozen fine desserts, without losing the quality, refinement and taste of homemade desserts. Our great differential of success is to produce artisanally in industrial scale.
The level of quality control of our products is certified by the International HACCP Alliance.
Our desserts are handmade produced daily, and we assure the quality of our products, which are made with the best ingredients, free of additives and preservatives. We keep Good Manipulation and Manufacturing Practices, always making our desserts with love.
Our recipes are developed and signed with innovation and knowledge by the Pastry Chef Luciana Altavista, which attended Le Condon Bleu in Paris and has been traveling all around the world trying the most fine desserts to give our customers the opportunity and pleasure to try the best.
Our Mission
Our mission is increasingly to be present in the good moments of life, with products of quality and unforgettable flavor in our gustative memory, welcome to this pleasure.
Missão
Produce and commercialize desserts with high quality standards, following the norms of the good practices of manufacture and manipulation of foods. Provide sweet moments of pleasure through our products. Make our products accessible to all classes. Guarantee quality and seek the satisfaction of our customers.
Visão
Keep your eyes on the future by innovating in technology and creating new candy and products. Obtain customer recognition for the quality control used in the production process. Respect and appreciation of people. Ethics in business behavior.
Valores
Innovation; Social and environmental responsibility; Commitment; Competence; Ethics in organizational actions; Transparency in relationships; Always present quality.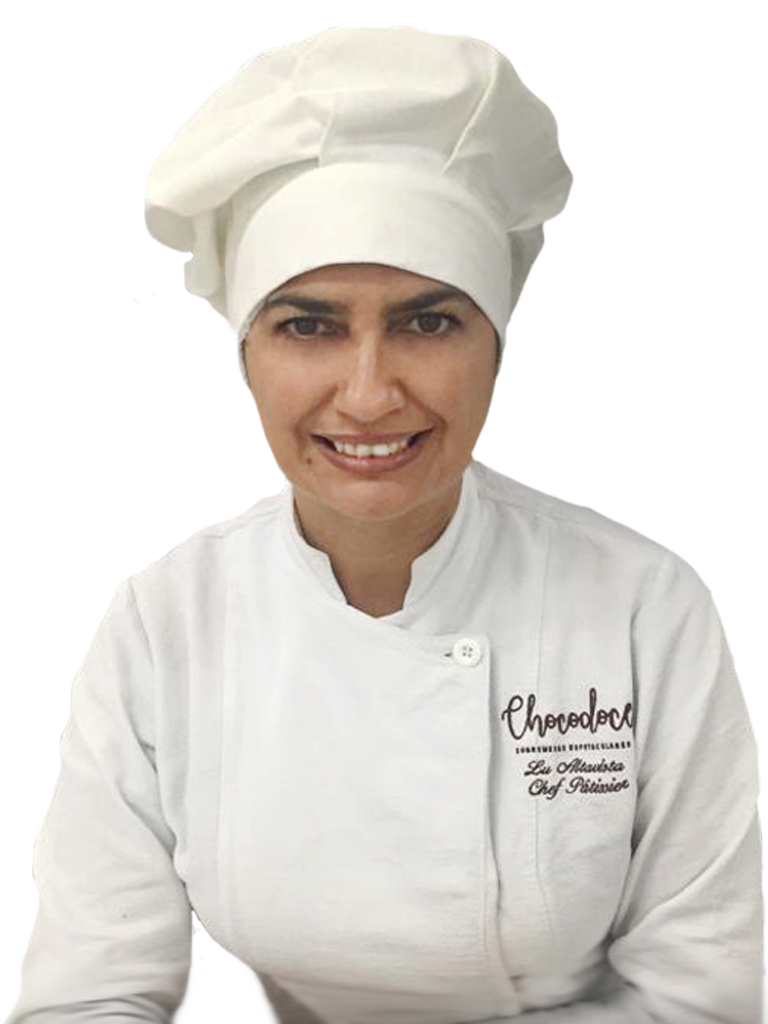 Luciana Altavista
Chef Pâtissier

Chocodoce has been enchanting its customers about the quality of its products, true delights that taste like homemade with a high quality standard and fair price, a concept that we do not give up.
Welcome to this delight!
By: Luciana Altavista
Doing Good is Good
From this perspective, our pies are made with top quality products, less sugar than usual, sweet and crunchy pastas and exclusive recipes such as the well-bred pie pioneer and delicious profiteroles, among others. Always committed to offering attractive products to the eyes and the palate, with a fair price accessible to all classes.


The Chocodoce story begins more than fifteen years ago, with a partnership between a competent business administrator and a passionate Pastry Chef.
The Company is specialized in frozen desserts, using the best ingredients and less sugar and fat in its creations.
Our mission is provide our customers the remind of good moments of life through a piece of cake. Our products have high quality and unforgettable flavor in gustative memory, they are the true Emotional food.